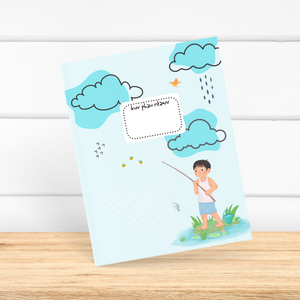 8.5x11 inch
100 pages
Wide-ruled
Encourages creativity and storytelling
Introducing the perfect notebook for kids who love to write, draw, and imagine. The 8.5x11 wide-ruled notebook with 100 lined pages features stunning artwork of the beloved characters from Tory Envy's books. Young readers will be delighted to see their favorite characters come to life on the cover of this high-quality notebook.

The wide-ruled pages provide ample space for writing and drawing, making it the perfect companion for school, at-home learning, or simply for jotting down ideas and stories. With 100 lined pages, there's plenty of room for kids to let their imagination run wild.

The durable cover ensures that the notebook can withstand everyday wear and tear, making it a reliable choice for young writers and artists. The cover features beautiful illustrations of Tory Envy's characters, bringing a touch of magic to every page.

This notebook is not only functional but also inspires creativity in young minds. The artwork on the cover serves as a visual reminder of the magical world that Tory Envy's characters inhabit, sparking the imagination and encouraging storytelling.

By using this notebook, young readers can not only engage with Tory Envy's stories but also support the representation of marginalized voices in the publishing industry. The notebook is designed to celebrate and promote diverse literature, making it the perfect choice for parents who want to encourage their children to appreciate and embrace diversity.

Overall, the 8.5x11 wide-ruled notebook with 100 lined pages and beautiful illustrations is the perfect tool for young and who want to express themselves and explore the magical world of Tory Envy's characters.